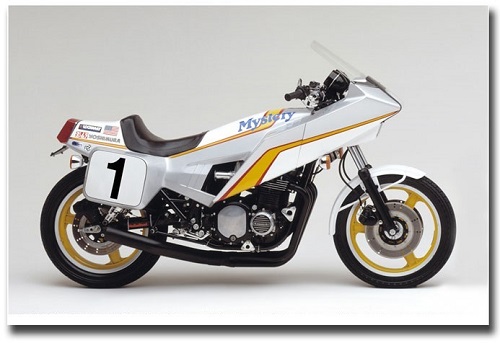 The 1980 Vetter Mystery Ship is a motorcycle designed by Craig Vetter.
Mystery Ship 1 shown in the photograph above has been donated by Craig Vetter to the American Motorcyclists Association Hall of Fame Museum in Ohio.
The Mystery Ship was based on the 1980 Kawasaki KZ1000 MkII. They cost $9,995 in 1980 when a stock KZ1000 MkII cost around $3,500.
Standard KZ1000 MkII frames were used. However, they had several modifications.
They were taken to Kosman's where a frame jig was used to ensure accuracy, as the geometry of the Mystery Ship frames was to be the same as the Kawasaki KZ1000 racing motorcycle sponsored by the Vetter Corporation in the 1978 AMA Superbike Series.
(see the Craig Vetter page)
The steering headstock was removed completely. It was replaced at 26° by a machined headstock fitted with 62mm tapered bearings.
The frames were strengthened, and brackets not needed were removed. Rearset footpegs and a gear change linkage system were fitted. A shortened rear brake lever was used.
The mounting points for the Mulholland Force 1 rear shock absorbers were relocated further down the frame and a box section swing arm was fitted.
3 spoke magnesium Dymag wheels were fitted.
However, some of the Mystery Ships had solid wheels.
The tyres used were Michelin M45 front and M48 rear.
Standard Kawasaki brake discs and calipers were used with Ferodo pads.
The bodywork was a two piece unit that covered a 6 US gallon fuel tank.
A Lockhart oil cooler was fitted into the nose of the fairing just below the headlight.
The Vetter Mystery Ship came supplied with a standard KZ1000 MkII engine which, according to Yoshimura, produced around 75 BHP at 9,000rpm.
A four into one Yoshimura exhaust system was fitted.
For those with deeper pockets, several Yoshimura tuning options were offered.
Stage I. $799. 1105cc with 10,000rpm cam. (101 HP)
Stage II. $1134. As Stage I but with ported & polished head and 10,500rpm cam. (108 HP)
Stage III. $1348. As Stage II but with larger valves. (116 HP)
Stage IV. Superbike specification. Prices were available on application.
For those wanting a Turbo Charged option, for around $1,700, Vetter would work with Russ Collins of R.C. Engineering.
It was originally planned that 200 Mystery Ships would be built. However, Craig Vetter had a hang glider crash which forced him to stop production after only 10 Mystery Ships had been built, so a Mystery Ship is a rare motorcycle indeed.
Whilst recovering from his accident, Craig began to reflect on what he felt was more important. Although the Mystery Ship had been an important development, he decided to turn his efforts to bringing attention to fuel economy with the development of his Streamliner, a subject he has remained passionate about to this day.
Visit www.craigvetter.com for more information.