Craig Vetter
Craig Vetter was born in 1942 in Alabama. He moved with his family to Illinois when his father retired from the US Air Force.
After riding motorcycles on long journeys, Craig realised that it would be much more pleasant to ride if there was some protection from the wind and weather; and that fuel economy would be improved if wind resistance was reduced.
He became fascinated by motorcycle fairings and started to experiment with various designs.
Craig went on to form The Vetter Corporation and sold his first range of fairings in 1966.
Craig has always had a passion for British motorcycles. In 1969, he created a design that was originally based on the BSA Rocket 3 motorcycle.
However, the design eventually became known as the X-75 Triumph Hurricane.
Vetter is perhaps best known for the Windjammer Fairings that were introduced in 1971.
Luggage Systems to match the Windjammer Fairings were introduced in mid 1978.
In the mid 1970s, Craig Vetter rode Rickman framed Kawasakis in several races. He was not just after race wins. The purpose was to develop his own ideas for a racing motorcycle.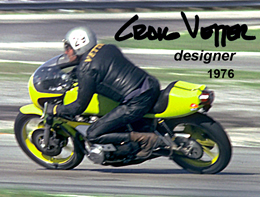 1976 was the first year of the AMA Superbike Series. The Series was won by Reggie Pridmore riding a BMW R90S.
Reggie won the Series again in 1977, this time riding a Racecrafters Kawasaki KZ1000 tuned by Pierre des Roches.
In 1978, the Vetter Corporation sponsored Reggie to ride in the AMA Superbike Series.
The Team Vetter motorcycle was also a Kawasaki KZ1000 tuned by Pierre des Roches.
Reggie won the Series for the third time in a row.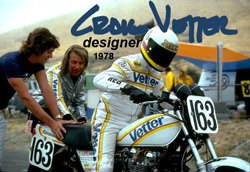 The 1978 Team Vetter KZ1000 Superbike, along with Craig's earlier experience on the Rickman Kawasakis, led to the design of the Mystery Ship.
In November 1978, Craig Vetter sold the Vetter Corporation and moved to Carmel, California with his wife Carol and two sons, Zak and Morgan.
Craig Vetter was inducted into The AMA Motorcycle Hall of Fame in 1999.
Craig remains active in the motorcycle world and is involved in many projects concerning improvements to motorcycle fuel economy.
One such project is Craig's Streamliner.
Visit www.craigvetter.com for more information.
"What does it really take to push a person down the road at 55mph?"…Craig Vetter
Thanks to Craig Vetter for giving permission to use the photographs throughout this website and for information about the Vetter Mystery Ship.